A Brief History
A Brief History of St. Martin de Porres Catholic Church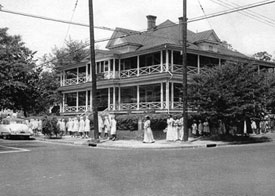 On December 15, 1935, the present day St. Martin de Porres Catholic Church was formed officially when the Most Reverend Emmet Walsh, Bishop of Charleston celebrated the dedication Mass. The original church was founded as Blessed Martin de Porres Mission for Colored Catholics. This church building on the corner of Hampton and Oak Streets in the Historic Waverly Community of Columbia, South Carolina, was a large white three-story Antebellum house. This house was converted into a church, parish school, and rectory. There were also activity rooms in the basement.
The Blessed Martin de Porres Mission was founded upon the request of African American Catholics in Columbia, SC. Bishop Walsh contacted the Dominican Friars in New York to see if they would be willing to minister to this newly formed mission. They responded by sending Father Thomas Weiland, OP as the first priest. Not long after the dedication of the church the parish school was established in 1936.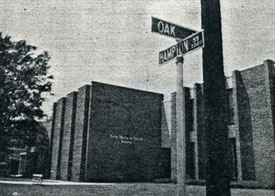 Many priests followed after Fr. Weiland, but it was in 1953 when Fr. O.T. Carl, OP arrived that a building boom truly began. Fr. Carl built a new church, convent, and under his leadership, a new school building opened its doors on September 13, 1954. On April 20, 2007 Bishop Robert Baker dedicated the new St. Martin de Porres Church (see home page photo) which was built under the leadership of Fr. Paul Williams, OFM. Fr. Paul also purchased a new rectory in which to house the priests. The church has plans for the construction of a new parish school in the near future.
In 1997, the Dominican friars left the parish with Fr. Bruce Schultz, OP who was the last of a long line of those religious priests and brothers. The pariish was blessed too have permanent deacons, Roland Thomas, Albert, Freeman, James Hardy and Wilbur Coleman (all deceased). The parish then became a diocesan parish. Subsequently the parish was under the spiritual leadership of Fr. Paul Williams assisted by Br. Henry Fulmer, of the Franciscans of the Order of Friars Minor of Holy Name Province (New York City, NY) Currently, Fr. Michael Okere is the priest and Parish Administrator assisted by the deacons - Deacon Carl Johnson (ordained May 19, 2007) and Deacon Leland Cave (ordained on May 3, 2017).
Some of the organizations within the parish include the Parish Pastoral Council, Legion of Mary, Rosary Altar Society, Knights and Ladies of Peter Claver, Knights of Columbus, Youth Group, Religious Education teachers, Ministers of Holy Communion, Mass Lectors, Choir Members, Ushers, Maintenance and Grounds Volunteers, Soup Kitchen Volunteers, and various other social and administrative committees.
Our Parish was named in honor of a Dominican lay-brother, Martin de Porres from Lima, Peru. Br. Martin was the son of an African slave mother and a white father from Spain. Although Br. Martin could have chosen a wealthy man's life, instead, he chose a humble life of caring for others. We at St. Martin de Porres Church are trying to live in accordance to his legacy by welcoming all people, regardless of race or economic status.